Regular price
$6,750.00 USD
Regular price
$6,750.00 USD
Sale price
$6,750.00 USD
Unit price
per
Sale
Sold out
Get it between -
Introducing an exquisite and truly remarkable addition to your home decor collection - the captivating masterpiece crafted by renowned international designer Larissa Batista and meticulously handcrafted by skilled woodworkers in our state-of-the-art studio factories. This exceptional cabinet is a testament to the seamless fusion of mid-century modern design with the designer's unique tribal inspirations, resulting in a truly breathtaking piece that will instantly elevate the aesthetic of any room.

The cabinet showcases a captivating combination of natural wood finishes in a sophisticated black metallic base and the timeless allure of camphorwood colors and details. These elegant materials harmoniously blend together, exuding an aura of refined elegance and contemporary charm. Complementing the sleek design are the hand crafted metal door knobs, flawlessly matching the overall aesthetic and adding a touch of modernity to the cabinet's allure.

As you open the doors, you'll be greeted by the warm glow of ambient LED lights, delicately illuminating the cabinet's generous storage space. Within its confines lie six spacious drawers, offering ample room for organizing and storing your cherished belongings. The interior storage space is thoughtfully designed to accommodate a variety of items, ensuring that you can effortlessly keep your possessions in order.

Furthermore, this exceptional cabinet features a modern metallic base, providing a sturdy foundation while adding a touch of contemporary sophistication to its overall design. The doors are equipped with dampened hinges, allowing for smooth operation whilst ensuring that your experience with this cabinet is one of utmost convenience and elegance.

While we recommend using this versatile cabinet as a bar or wine storage, its inherent beauty and functionality make it an equally enchanting addition to any living room. Use it as a storage unit to showcase your treasured possessions or as a stylish accent piece to elevate the overall ambiance of your living space.

Whether you choose to place it in your study, lounge, or dining area, this collectible cabinet by Larissa Batista is sure to become the focal point of attention, captivating all who lay eyes upon it. Immerse yourself in the world of contemporary design and tribal inspirations with this extraordinary creation, a true testament to the harmonious blend of artistry, functionality, and exceptional craftsmanship. Transform your living space into a realm of timeless elegance and modern allure with this must-have home decor masterpiece.
Architects and Interior Designers, click here to download the 3D model from 3D Warehouse.
Materials

Wood, metal, eco-friendly MDF, laminate.
Shipping & Returns

We're pleased to offer free shipping on all purchases for standard deliveries, which is curbside or doorstep, made within the USA. Additional time may apply to some regions.
This item requires minor assembly.
Dimensions

Length: 17.33 in. (44 cm)
Width: 44.89 in. (114 cm)
Height: 63.78 in. (162 cm)
Customization

Color personalizations and size modifications are available at a small surcharge.
Share
View full details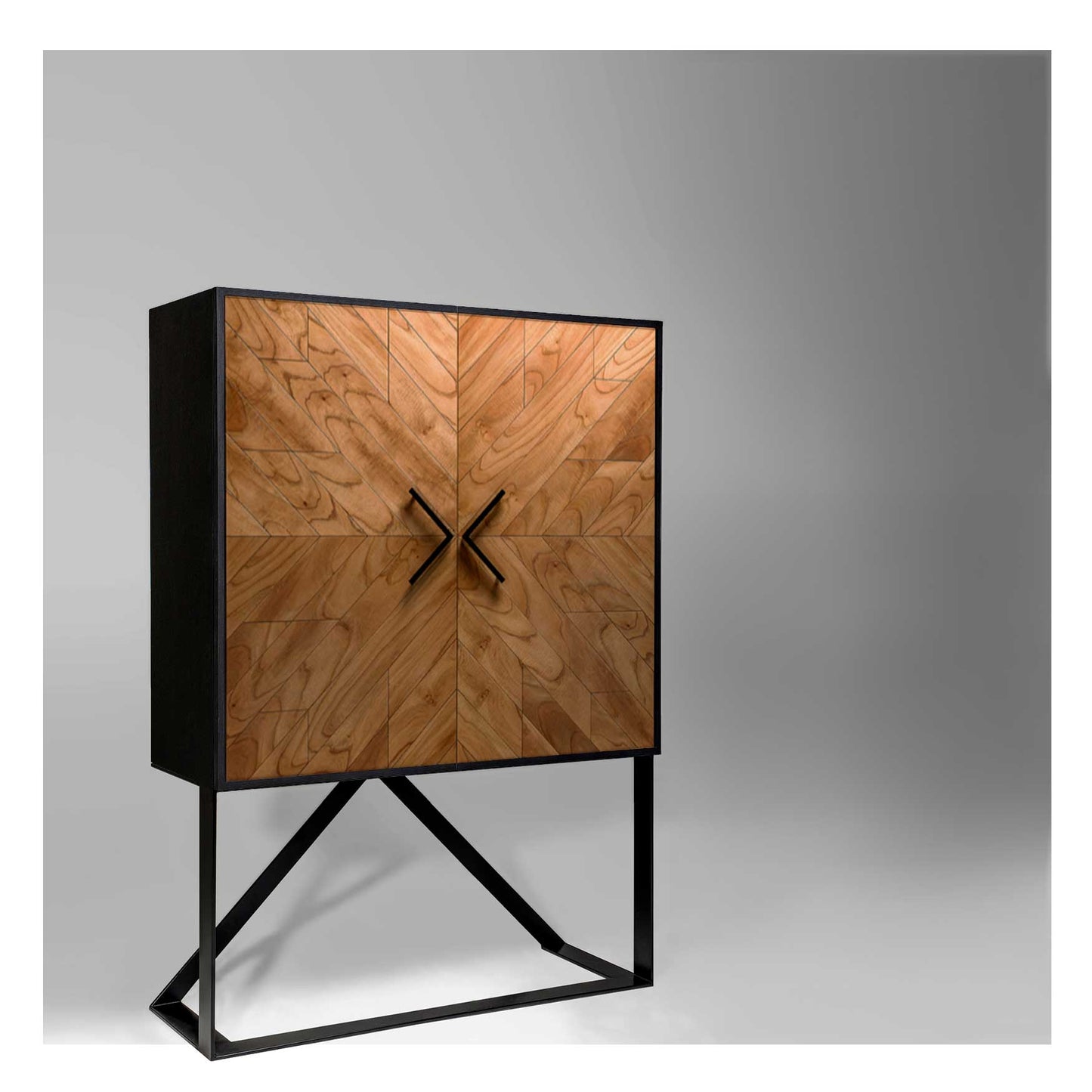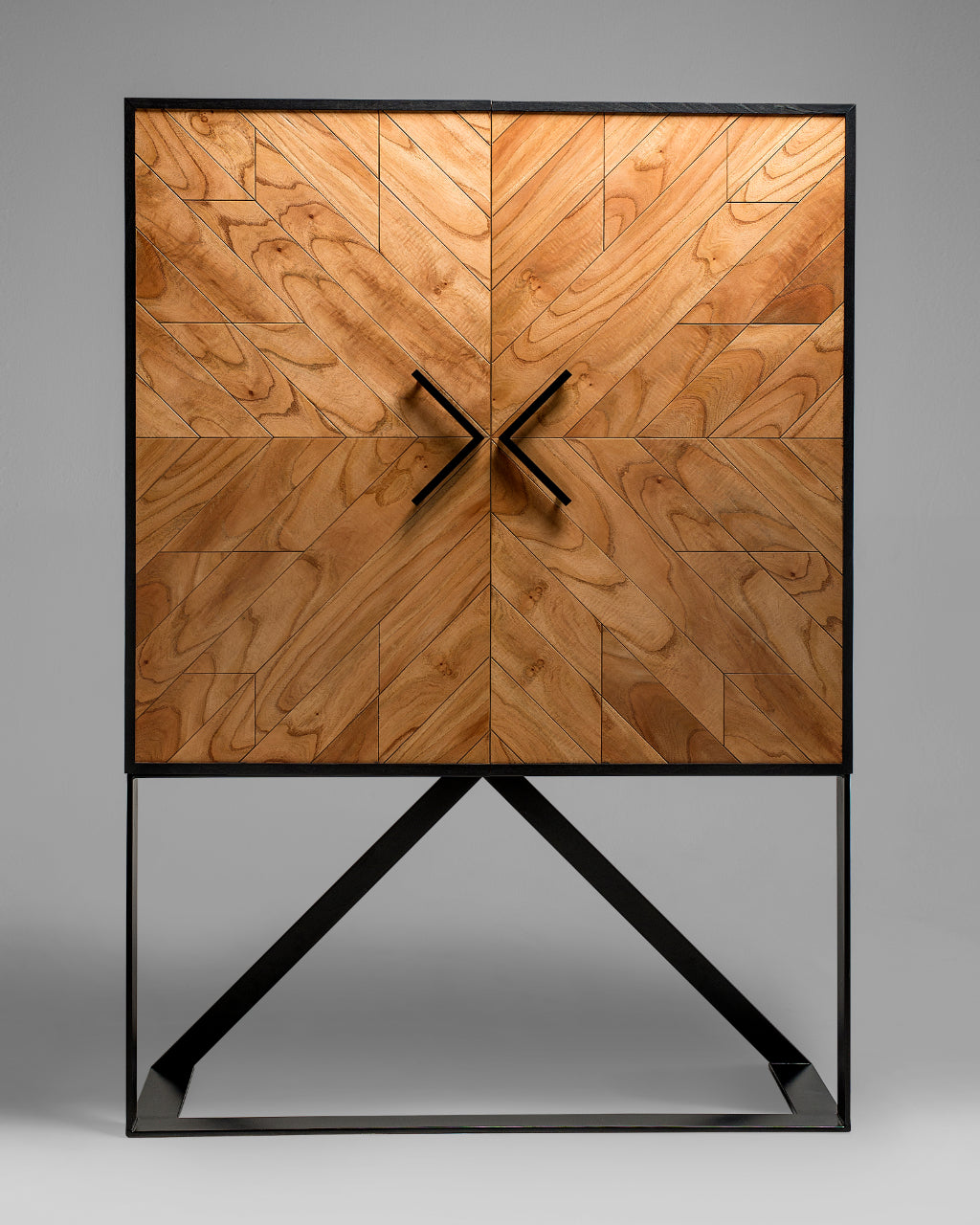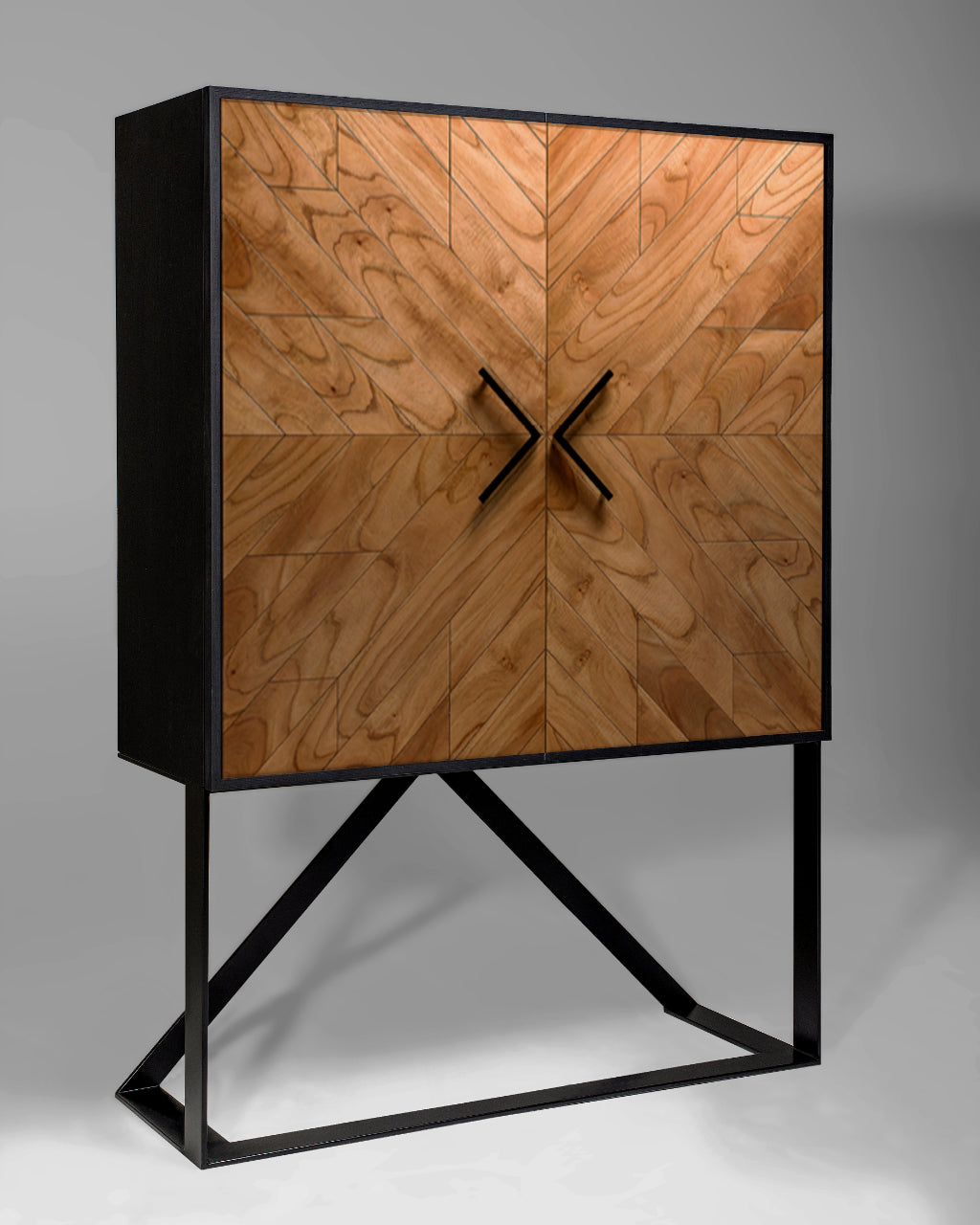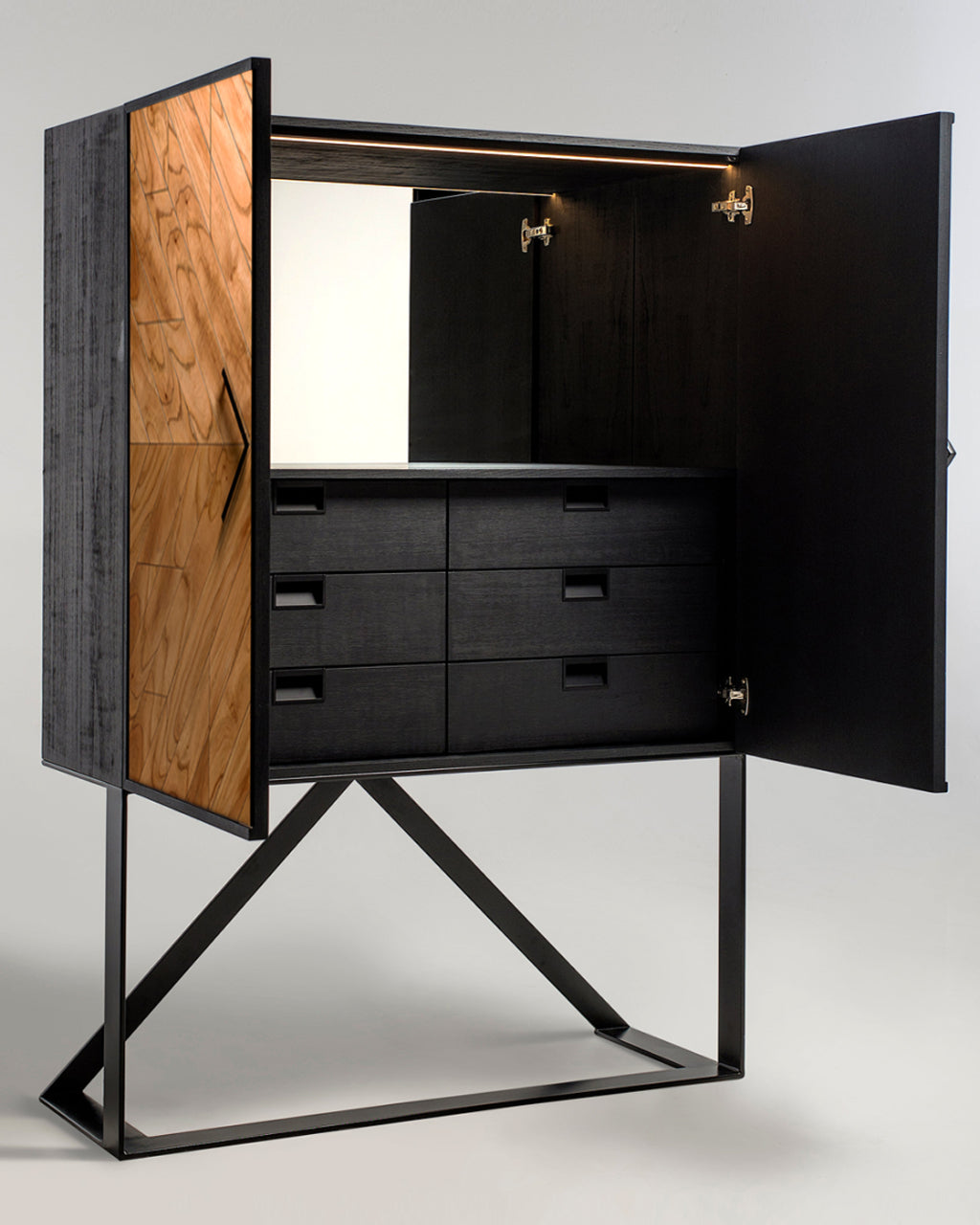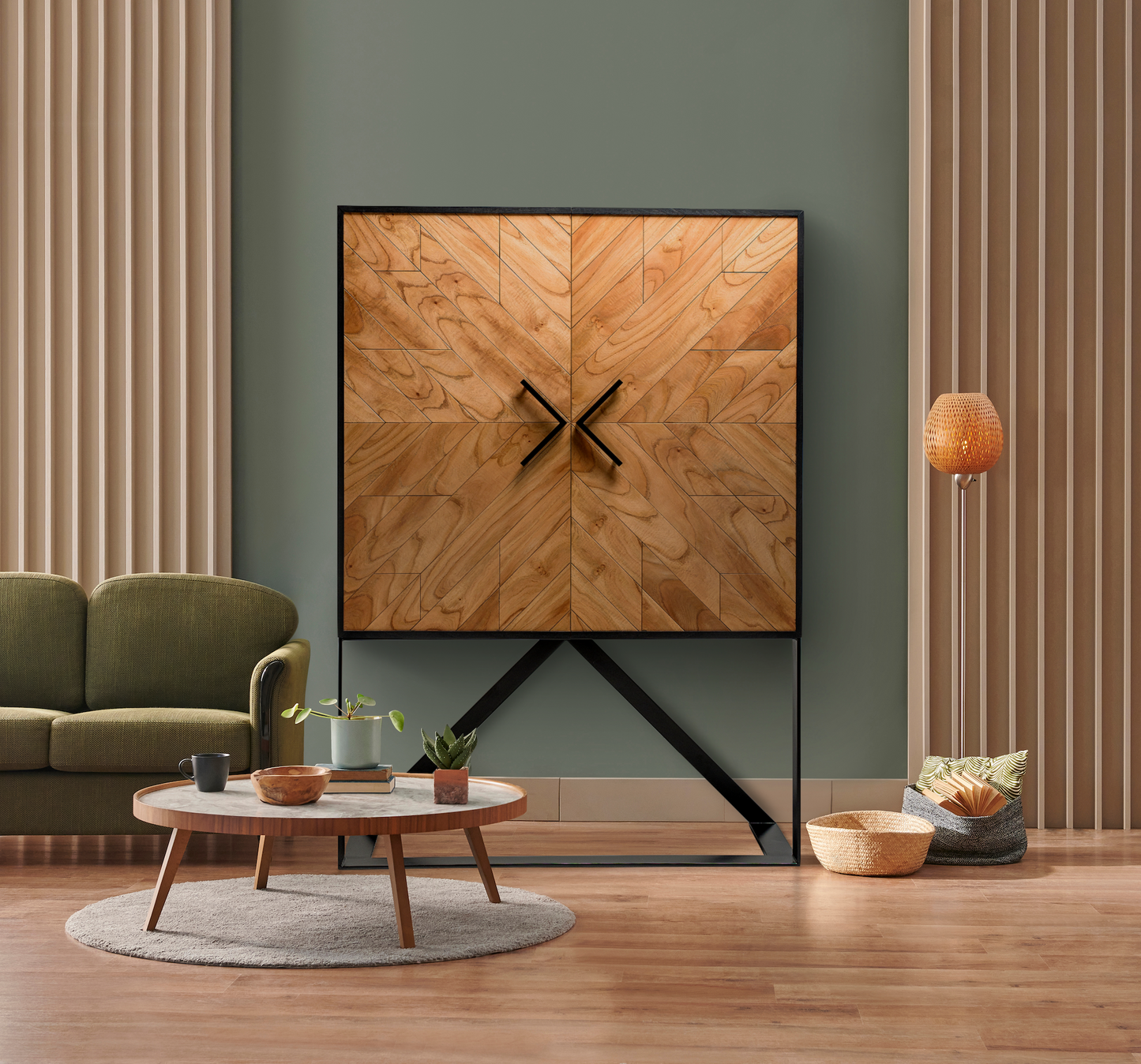 Featured Product
KURO SIDEBOARD

Just as punk fashion made the 1970's cool yet never really mainstream, this all black riveted high-end cabinet designed by Larissa Batista is a blastoff from her design studio to the world.

The Tigah Iki features an all handmade wood construction and hand applied studs, a sophisticated velvety fabric coated interior, a modern metallic base and dampened hinges on all doors.
"PURCHASING WAS A TRULY UNIQUE EXPERIENCE. LARISSA AND HER TEAM WERE A PLEASURE TO WORK WITH. THEY MADE THE SHIPPING PROCESS SEAMLESS AND WE LOVE THE DESIGN."
— Olivia G.
"Larissa is not only an incredibly talented designer, she is extremely kind, professional and responsive. Thank you so much for sharing this magnificent piece with us."

— Robert M.

"Excellent communication, so friendly, BEAUTIFUL piece, and our clients were thrilled with it. It's the perfect addition to the space!"

— Vanessa B.

"Communication through the process was a plus with Larissa and also happy for great quote on the white glove delivery service and the delivery team was very professional and prompt. Reliable and great quality cabinet."

— Erica S.